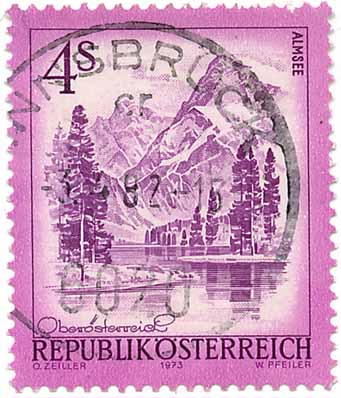 Almsee Oberösterreich
001297
Translation:

Almsee Upper Austria

Country:

Austria [Republik Österreich]

Year:

1973

Printed value:

4 S

Found copies:

1

Found set items:
5 (View set)
Stamp-ID:

001297

Stamp collection:

OldStamps

Views:

7063

Comments

3

Artists:

O. Zeiller | W. Pfeiler

Related tags:
Nature | Mountains
Online since:

2011-12-06
Comments (latest first)
stampowner2016-10-29 06:25:44
"I have this stamp in perfect condition. Can anyone tell me what is is worth? I also have other stamps from Austria and I don`t know how to find out the worth of them. Can anyone tell me?"
Shelley2014-09-30 00:14:03
"I have 8 of these in perfect shape. I am wondering what the value is- and/or if you would like to buy them from me. Or know of anybody who would. Thank you for your time."
ostoja mitric2013-02-21 16:11:57
"I have the same stamp but mine is marked in left bottom corner not like this oneall over the picture!I was wondering is it worth anything!?"
More items from this postage stamp set