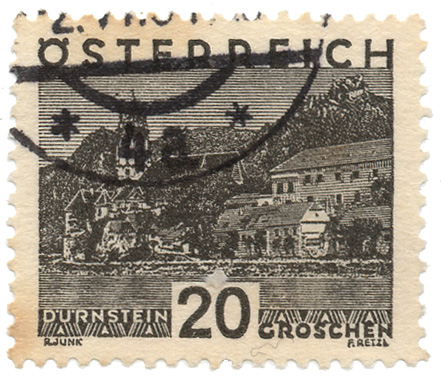 Dürnstein - Österreich
003155
Translation:

Dürnstein - Austria

Country:

Austria [Republik Österreich]

Year:

1929

Printed value:

20 Groschen

Found copies:

0

Found set items:

0

Stamp-ID:

003155

Stamp collection:

OldStamps

Views:

7322

Comments

3

Artists:

Rudolf Junk | F. Retzl

Related tags:
Environment | Buildings | Cities
Online since:

2013-03-22
Comments (latest first)
Faust2017-04-25 21:25:03
"Hi, I think I have this stamp. The origin of the stamp is from Emmersdorf and there is a signature at the middle, it`s E.P. engraved in "needle holes.""
hoey2015-08-24 10:20:31
"I had 10 cussing and 20 crosanen on hand, is this stamp early then years 1929 because the stamp chop showed information 26 xl. 30 18 10Wien76 in 20 crosanen. and the 10cussing stamp chop showed 8information was 3 Wien 40 26 xl 34 18 *4s. "
Beth2014-08-11 00:07:22
"I have this stamp. "