Home Czechoslovakia Stamp-ID 955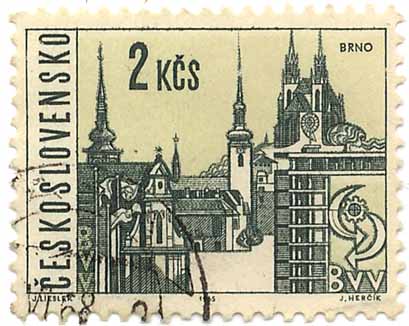 Brno - Československo
000955
Translation:

Brno - Czechoslovakia

Country:

Czechoslovakia (Czech Republic) [Československo]

Year:

1965

Printed value:

2 Kcs

Found copies:

0

Found set items:
3 (View set)
Stamp-ID:

000955

Stamp collection:

OldStamps

Views:

6575

Comments

4

Artists:

J. Herčik

Related tags:
Environment | Buildings
Online since:

2011-12-06
Comments (latest first)
sasha 122015-09-09 18:58:29
"Hi I have a stamp like this could you tell me the value Thanks"
Mecca2014-10-08 21:59:00
"I was just handed down around a thousand old foreign postage stamps mostly ranging in the early 1900`s. I have ok too many hours trying to see which ones are worth . I have Russian, Sweden, Norway, Belgium, YugoSlavia, as well as several other countries. I am interested in purchasing my grave first home and and wanting to sell them if you have any information or interest please contact me by email."
Ion2014-04-24 23:47:54
"I have 2 1965 2kcs Brno stamps as in the pics on your site that are not cancelled or used. What are they worth? Thanks. pls email ivmunteanu54@gmail.com"
JR2013-03-10 19:47:29
"My grandmother has a few foreign stamps--she found them in a box when her and my grand father moved into their house. She asked me to look them up online to see if they had any value to them. "
More items from this postage stamp set
Title:
Labeled:

Telč - Československo

Country:

Czechoslovakia / CSSR (Czech Republic)

Year:

na

Printed value:

50 h

Found copies:

0

Found set items:
3 (View set)
Stamp-ID:

953

Stamp collection:

OldStamps

Comments:

1

Views:

5870

Online since:

2011-12-06
Title:
Labeled:

Ostrava - Československo

Country:

Czechoslovakia / CSSR (Czech Republic)

Year:

na

Printed value:

60 h

Found copies:

0

Found set items:
3 (View set)
Stamp-ID:

954

Stamp collection:

OldStamps

Comments:

1

Views:

5208

Online since:

2011-12-06