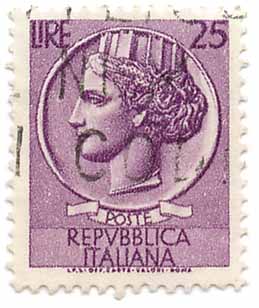 REPVBBLICA ITALIANA - Repubblica Italiana
001164
Translation:

REPVBBLICA ITALIAN - Italian Republic

Country:

Italy [Italia]

Year:

1971

Printed value:

25 Lire

Found copies:

0

Found set items:
10 (View set)
Stamp-ID:

001164

Stamp collection:

OldStamps

Views:

17856

Comments

10

Related tags:
Society | People
Online since:

2011-12-06

Do you have any additional information about this stamp?
Help us with a comment for this stamp.
Comments (latest first)
Ewa2017-09-27 23:50:23
"I have it and in many colours, too. "
Shariq2017-05-24 11:49:36
"I have this one whats its value now a days."
Avis2016-06-29 07:01:41
"I have this stamp also is it worth anything?"
Lea2016-01-06 11:42:54
"I have one, is it worth keeping"
Gal2015-04-24 10:42:27
"I have this stamp"
Wills2014-12-29 15:25:34
"Hi, I have a stamp with POSTE REPVBBLICA ITALIANA on the front with 55 in the top right corner. Its blue / purple in colour. Can you tell me if its worth anything? Many thanks William "
bryson2013-01-01 11:52:27
"i have it "
Kerrri2012-12-12 02:36:40
"I have this as well. I found it in a old doll I got at a thrift store!Anyone know anything about it? thanks"
Vikrant2012-07-23 17:04:08
"I have 1 stamp. Whats the value of this?"
maki2012-01-08 23:59:01
"i have it"
More items from this postage stamp set