Home United Kingdom Stamp-ID 1122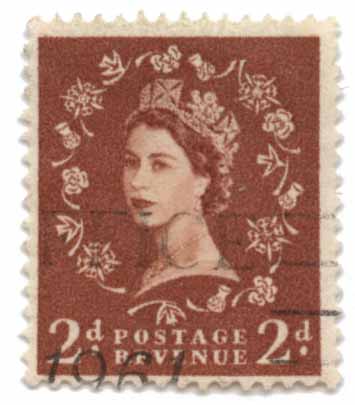 Queen Elizabeth II, Postage Revenue
001122
Comments (latest first)
Sheila2016-03-14 08:34:29
"How much is 2d postage revenge stamp worth today? Thank You "
mr.lee2015-12-09 04:01:21
"hi i have this stamp and i would like to know what its worth "
petrit2013-01-28 21:21:31
"i have this old stamps in diferent collor"
eyebright2012-12-29 23:38:40
"Found a queen elizabeth II 2d want to buy it? It was in a stamp belt I made in the 1st grade1961"
nic2012-03-23 17:23:49
"i have 3 of these stamps in good condition and never used please can you give me a value on these thank you"
green2012-01-27 04:02:42
"How clean does the 2d stamp have to be in order to be evaluated/valuable? What is the price of this stamp? I would also like the same information for the 1/2d, 3D and 13."
reza2011-12-27 21:20:35
"I have one what is prisce and also 1.b,1/2b"
ed2011-11-28 20:20:50
"wath is the price"

Warning: Attempt to read property "SID" on array in /is/htdocs/wp1068941_JQ68JXHY4U/www/_st2011/_marke.php on line 365

Warning: Attempt to read property "Epoche" on null in /is/htdocs/wp1068941_JQ68JXHY4U/www/_st2011/_lib_/functions.php on line 146

Warning: Attempt to read property "Land" on null in /is/htdocs/wp1068941_JQ68JXHY4U/www/_st2011/_lib_/functions.php on line 149

Warning: Attempt to read property "ALI_EN" on null in /is/htdocs/wp1068941_JQ68JXHY4U/www/_st2011/_lib_/functions.php on line 153

Warning: Attempt to read property "Beschreibung" on null in /is/htdocs/wp1068941_JQ68JXHY4U/www/_st2011/_lib_/functions.php on line 154

Warning: Attempt to read property "Trans_EN" on null in /is/htdocs/wp1068941_JQ68JXHY4U/www/_st2011/_lib_/functions.php on line 155


Warning: Attempt to read property "SID" on array in /is/htdocs/wp1068941_JQ68JXHY4U/www/_st2011/_marke.php on line 383

Warning: Attempt to read property "Epoche" on null in /is/htdocs/wp1068941_JQ68JXHY4U/www/_st2011/_lib_/functions.php on line 146

Warning: Attempt to read property "Land" on null in /is/htdocs/wp1068941_JQ68JXHY4U/www/_st2011/_lib_/functions.php on line 149

Warning: Attempt to read property "ALI_EN" on null in /is/htdocs/wp1068941_JQ68JXHY4U/www/_st2011/_lib_/functions.php on line 153

Warning: Attempt to read property "Beschreibung" on null in /is/htdocs/wp1068941_JQ68JXHY4U/www/_st2011/_lib_/functions.php on line 154

Warning: Attempt to read property "Trans_EN" on null in /is/htdocs/wp1068941_JQ68JXHY4U/www/_st2011/_lib_/functions.php on line 155

More items from this postage stamp set
Title:
Country:

United Kingdom

Year:

1954

Printed value:

1 D

Found copies:

0

Found set items:
2 (View set)
Stamp-ID:

1123

Stamp collection:

OldStamps

Comments:

5

Views:

30033

Online since:

2011-12-06