Home Philippines Stamp-ID 2973
Joseph Kennedy and family
002973
Comments (latest first)
Puntaeclicca2017-09-24 23:08:40
"I have this. New. What is its value?"
Jstbbs2016-04-30 05:19:49
"This is part of a set printed in 1968 but not issued. The set includes 1c, 2c, 3c, 5p and 10p perforated and imperf. There is also a small imperf souvenir sheet for 5c and 10p and possibly other souvenir sheets. Since it is not listed in Scott, prices do vary wildly on ebay. I have seen both the perf and imperf set offered together MNH for $7.00 (lowest price seen). I have seen the 5c souvenir sheet for $1.50 and the 10p souvenir sheet for $2.00."
Bernie2015-01-25 17:01:49
"I have the stamp also... Research shows it is not terribly valuable expect perhaps as a topical collection http://topicalstampstore.com/Item.aspx?id=60051"
ec2014-03-06 14:28:03
"got one copy of this..."
Bobbi2014-01-22 14:39:13
"This set of stamp is not in the Scott catalog. In 1968, the Philippines marked their lower denomination stamps with a "s" not a "c"."
Frank2013-01-25 06:48:07
"I have this stamp, can you say whether this stamp has a value"
More items from this postage stamp set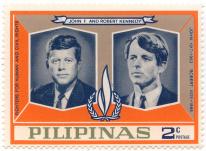 Title:
Country:

Philippines (pilipinas)

Year:

1968

Printed value:

2 ¢

Found copies:

0

Found set items:
3 (View set)
Stamp-ID:

2971

Stamp collection:

OldStamps

Comments:

2

Views:

8836

Online since:

2012-05-11
Title:
Country:

Philippines (pilipinas)

Year:

1968

Printed value:

3 ¢

Found copies:

0

Found set items:
3 (View set)
Stamp-ID:

2972

Stamp collection:

OldStamps

Comments:

1

Views:

8238

Online since:

2012-05-11