Home Philippines Stamp-ID 2977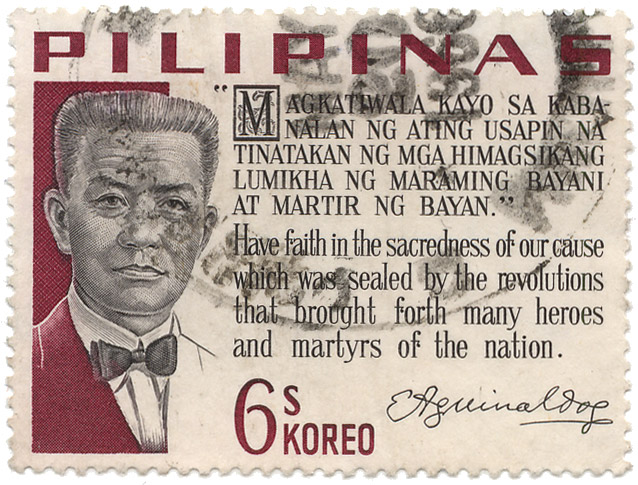 Mag ka tiwala kayo sa kabanalan ng ating usapin na tinatakan ng mga himagsikang lumikha ng maraming bayani at martir ng bayan.
002977
Translation:

Have faith in the sacredness of our cause which was sealed by the revolutions that brought forth many heros and martyrs of the nation.

Country:

Philippines [pilipinas]

Publisher:

Pilipinas koreo

Year:

1970

Printed value:

6 s

Found copies:

0

Found set items:
4 (View set)
Stamp-ID:

002977

Stamp collection:

OldStamps

Views:

2685

Comments

1

Related tags:
Events | Society | People | Politics | Revolution
Online since:

2012-05-11
Comments (latest first)
Simmo2012-10-15 00:38:40
"Hi guys, I`m curious as to the price of the collection as i have 4 and am wondering if i can afford to get the whole collection, I also have many more pilipinas stamps that I would like to know the value of. Basically I was given an album full of stamps when i was 6 years old and i kept them hidden away in my bookshelf and recently pulled them out in perfect crisp new condition n the memories came flooding back, I could remember looking at them as a bright eyed young child and getting caught in the mystery of why and how did the pictures on the stamps originate. Anyway if you have any interest in knowing what i`ve got feel free to email me. Kind regards Simmo"
More items from this postage stamp set
Title:
Labeled:

Ang nais nati`y isang daigdig na ang tao`y may sapat na ikabubuhay at walang maghihikahos.

Country:

Philippines (pilipinas)

Year:

1970

Printed value:

6 s

Found copies:

0

Found set items:
4 (View set)
Stamp-ID:

2974

Stamp collection:

OldStamps

Comments:

2

Views:

2710

Online since:

2012-05-11
Title:
Labeled:

Walang makapagmamahal nang higit sa mga pilipino liban sa mga pilipino na rin.

Country:

Philippines (pilipinas)

Year:

1970

Printed value:

6 s

Found copies:

0

Found set items:
4 (View set)
Stamp-ID:

2975

Stamp collection:

OldStamps

Comments:

1

Views:

2575

Online since:

2012-05-11
Title:
Labeled:

Naniniwala ako na ang taong kapos sa buhay ay dapat punan sa batas.

Country:

Philippines (pilipinas)

Year:

1970

Printed value:

6 s

Found copies:

0

Found set items:
4 (View set)
Stamp-ID:

2976

Stamp collection:

OldStamps

Comments:

0

Views:

2352

Online since:

2012-05-11