Home United States Stamp-ID 2722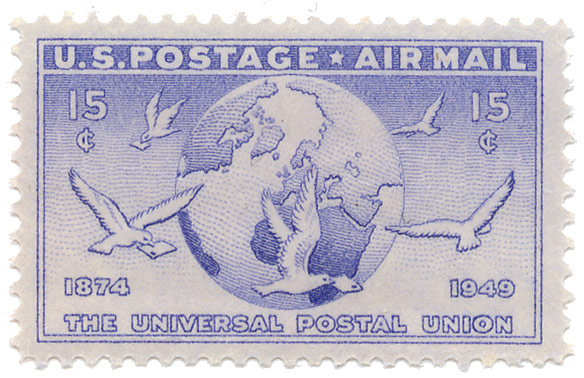 The universal postal union 1874-1949
002722
Country:

United States

Publisher:

U.S. Postage - Airmail

Year:

1949

Printed value:

15 c

Found copies:

0

Found set items:
3 (View set)
Stamp-ID:

002722

Stamp collection:

OldStamps

Views:

8296

Comments

3

Related tags:
Events | Anniversaries | Postage / Stamps
Online since:

2012-04-28
Comments (latest first)
cookie2017-01-14 07:36:16
"I have a few stamps that where purchased a while back and was just wondering how much they r worth. i have a copy of the 1949 us postal union, air mail. thank u"
Cis2016-10-06 00:51:16
"I have this exact stamp, worth anything?"
Benidan2014-06-30 06:39:09
"Hi i own one of these stamps and its used .. Its got a postal ink stamp across it that says -- HIRE THE HANDICAP ITS GOOD FOR BUSINESS. Any idea if this is rare ??? i can take a picture if you wanted to see it.. Ben Ponton"
More items from this postage stamp set
Title:
Country:

United States

Year:

1949

Printed value:

25 c

Found copies:

0

Found set items:
3 (View set)
Stamp-ID:

2721

Stamp collection:

OldStamps

Comments:

1

Views:

5378

Online since:

2012-04-28

Title:
Country:

United States

Year:

1949

Printed value:

10 c

Found copies:

0

Found set items:
3 (View set)
Stamp-ID:

2723

Stamp collection:

OldStamps

Comments:

3

Views:

10187

Online since:

2012-04-28